New Study Guide Coming Soon And E-Book Available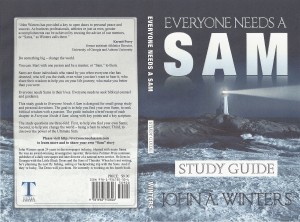 A couple of big announcements: a new study guide to Everyone Needs A Sam will be available soon; and an e-book version of Everyone Needs A Sam is now out.
If all goes well, the book-version guide will be out next month.
The guide is designed for small group study and personal devotions. The goal is to help you find your own Sams, to seek biblical wisdom with a passion. The guide includes a brief recap of each chapter in Everyone Needs A Sam, along with key points and a key scripture.
The study questions are three-fold: First, to help you find your own Sams; Second, to help you change the world – being a Sam to others; Third, to discover the power of the Ultimate Sam.
The e-book version of Sam is now available on all major e-reader platforms. So if that's your preference, check out the major readers and download.