About the Book
(E-book version is now available on all major e-readers)
(And now with a in-depth study guide for life groups and Bible study classes)
Looking for answers? Need some advice? Wondering which way to go?
Congratulations, you're just like everyone else.  And that's what Everyone Needs A Sam is all about – obtaining wisdom, seeking guidance, finding those Sams who can help you on your life journey. Join us as we find those who impart wisdom that stays.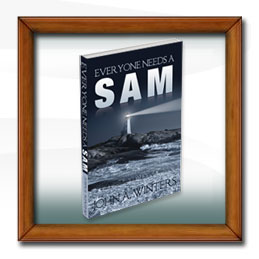 Everyone Needs A Sam is about mentors, those individuals who appear at various points in your life.  They are the ones guarding your back, standing beside you when everyone else has deserted.  They help you in your battles with your giants.
The title was inspired by the Lord of the Rings, one of my favorite books. It refers to Sam, the faithful companion of the hero, Frodo.  Throughout the trilogy, Sam always stood by Frodo, guarding his back, lending an ear, offering advice.
And that's what true Sams do.  They are guides on your life journey.  Some Sams come and go; others stay a lifetime.  Sometimes they are your spouse, but not always. Others are your best friends, but maybe shouldn't be.  The book looks at what Sams are and also what they are not.  What they can and can't do. It discusses how to find true Sams, and ends with the Ultimate Sam.
Throughout the Bible, verse upon verse tells us to seek wisdom, to seek guidance.  And there are references to those scriptures throughout the book.  We are encouraged to seek advice not only from God, but from honorable individuals as well.
Everyone Needs A Sam is split into two main parts.   The first section is a first-person account of the author's own life.  I spent 24 years in the newspaper industry.  I was an award-winning investigative reporter; Washington, D.C., bureau chief; publisher of a daily newspaper; and director of a national news service.
After taking a buyout, I also was out of work for more than a year.
During my career and afterward, I had Sams throughout my life.  They guided me, stood by me and helped in whatever way they could.
The second part of the book includes stories from some of the Sams in my life.  These stories are in those writers' own words about individuals who helped them out at some point. You see, even Sams need Sams.
If you take nothing else away from this book – Be A Sam to someone else.
Please visit the "Sams on Sams blog" link at the top to leave comments and see what others have written.
To submit your own Sam story, please e-mail: sam@everyoneneedsasam.com